Thanks for printing! Don't forget to come back to Quattro de Mayo 2021 for fresh articles!

Danewich 2/2
Overall, this is a moderate drive, with a kick here and there if conditions permit, almost entirely through or along the Chattahoochee National Forest. We start by going out Alt 75 to Turners Corner, then a fun, scenic run up 129 to Neels Gap, where the road crosses the Appalachian Trail. We'll stop for photo ops and a quiz. Continuing back down the north side of the mountain, there will be plenty of opportunities to master your gearbox and brakes. We'll turn right onto 180 and then north again to Young Harris. The next leg is more leisurely along Hwy 75 past Lake Chatuge to Macedonia, where we head south along beautiful Lake Burton and Lake Rabun toward Toccoa Falls. We'll stop for pics and a short hike to the falls here. It's worth it! The return drive will take us past the fields and hills, and through the forest on 197 and 356, back to the Lodge, with plenty of afternoon to spare.
Group Leader: Steen Olsen, 2018 Audi S6
Pace: Moderate+, Some cruising. Mostly curves
Staging Location: Upper
Staging Time: 10:30 am
Departure Time: 10:45 am
Distance: 150 | Duration: 5 hours
Lunch Location: LaPrade's on Lake Burton
Points of Interest: Scenic Stops, Neels Gap, Lake Chatuge, Lake Burton, Lake Rabun, Toccoa Falls
Radio Channel: 17-9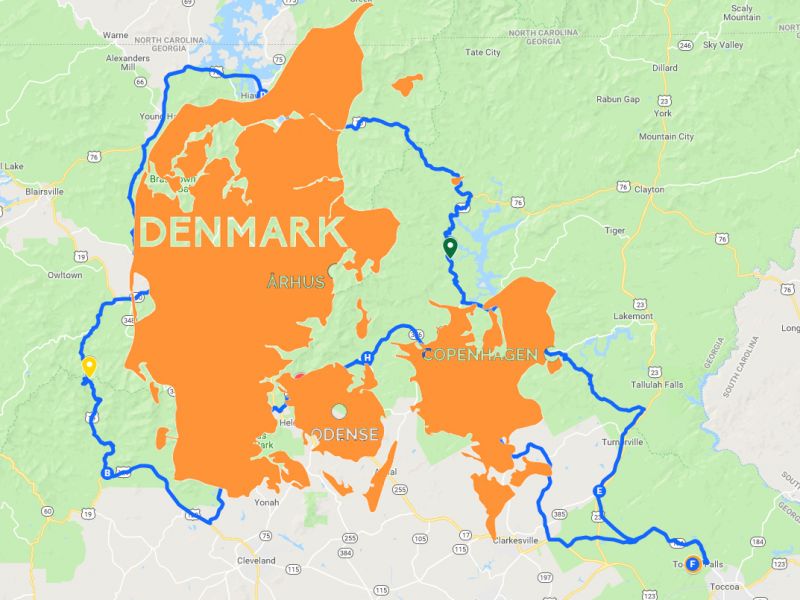 Route map
Who is on this drive?
Bob Horne
Brian Thorpe
Jeanette Daniels
Jim Durgin
Keith Chitwood
Lars Finderup - Tail
Liam O'Marah
Stan Hoogerwerf
Steen Morup-Olsen - Leader
Tim Mays
Tom Lindert