Thanks for printing! Don't forget to come back to Quattro de Mayo 2021 for fresh articles!

The Iron Triangle- Dragons and Hades
Dynamic and demanding
The Dragon in the early AM, with stops to shop for memorabilia and things. We reverse course through the Dragon, and run the Hellbender (not the salamander) towards Stecoah. Following another break, we head for a midday-ish meal in Dillsboro NC (a previous QDM HQ), and then a more relaxing egress back to the Unicoi Lodge.
Group Leader: Ted Dannemiller, 2012 Audi TT RS
Pace: Spirited+, Non-stop curves!
Staging Location: Lower
Staging Time: 8:45 am
Departure Time: 9:00 am
Distance: 270 miles | Duration: 8h
Lunch Location: Haywood Smokehouse
Points of Interest: Extra Long / "Endurance", Cheoah Dam, Crossroads of Time, Tail of the Dragon, Chilhowee Lake, Fontana Dam, Bridal Veil Falls
Radio Channel: 17-3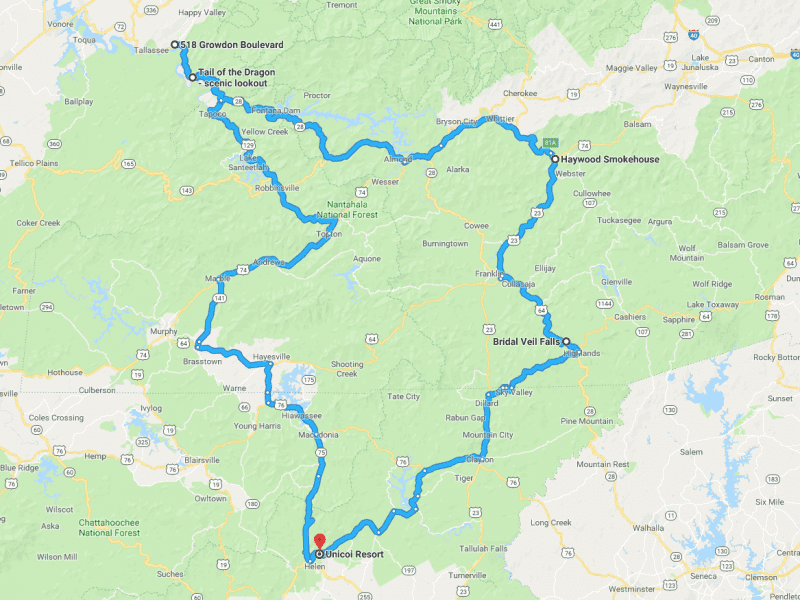 Route map
Sorry, this drive is full!
If someone changes their mind and registers for another Friday drive, a slot will open up. But it may be a good idea to register for another drive in the mean time.
Who is on this drive?
Benion Horton
Elizabeth Nichols
Greg S. Savitt
James Gardner - Tail
James Schwind
Jim Durgin
Michael Chang
Mike McSween
Steven Johnson
Ted Dannemiller - Leader
Vincent Scorsone
William Gerwig