Thanks for printing! Don't forget to come back to Quattro de Mayo 2021 for fresh articles!

Too many curves to count!
We will start by heading towards Lake Burton, up the west side of Burton then on to Clayton for a short bathroom stop. We turn North on to 23/441 to Dillard, take Dillard Road to 64 to Highlands and across to Cashiers for our lunch stop at The Randevu Restaurant. After our lunch stop, we head to Gorges State Park for a bathroom stop. South on NC281/SC107, then up to Mountain Rest and across Chattooga Ridge to US 76 thru Chattahoochee-Oconee National Forest to Clayton. South on US23 to the last bathroom stop, across Lake Rabun Road to Lake Burton and back to Unicoi State Park.
Group Leader: Carol and Pat Monnot, 2003 Audi RS6
Pace: Moderate+, Some cruising. Mostly curves
Staging Location: Upper
Staging Time: 9:00 am
Departure Time: 9:15 am
Distance: 159 miles | Duration: 6 hours 52 minutes with stops
Lunch Location: Randivu Restaurant, Cashiers NC
Points of Interest: Scenic Stops, Lake Burton, Gorges State Park, Scenic Overlook of South Carolina Lakes and Cities, Lake Rabun, Seed Lake
Radio Channel: 17-4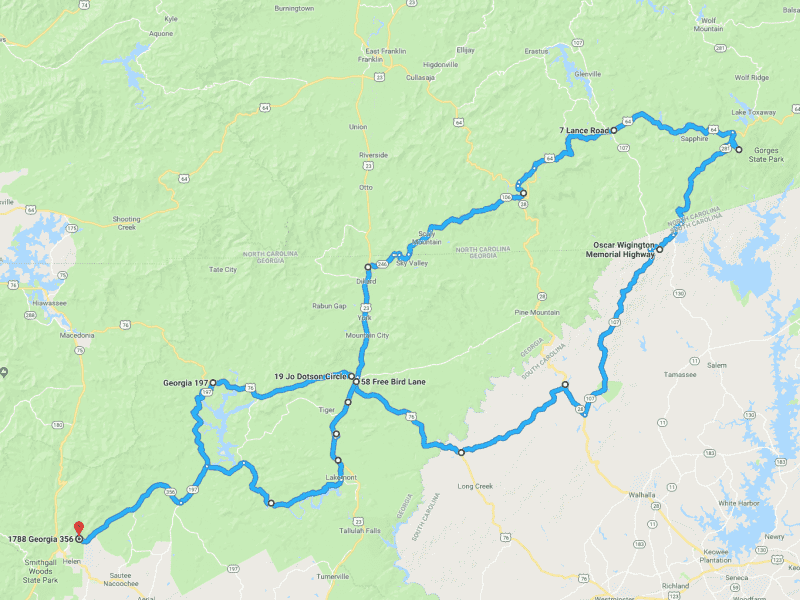 Route map
Sorry, this drive is full!
If someone changes their mind and registers for another Friday drive, a slot will open up. But it may be a good idea to register for another drive in the mean time.
Who is on this drive?
Allison Gantt
Brad Schneck
Bryan Cheever
Carol Monnot - Leader
Carrie Hasbrouck
Dale Whitney - Tail
David Loppert
Duane Leuthold
Marjorie Gelso
Roger Labas
Stan Hoogerwerf
Tom Lindert