Waterfall Drive
The Waterfall Drive is a scenic drive visiting four of North Georgia's waterfalls. The drive will be approximately 100 miles. The lunch stop will be in Helen, Georgia, where the members can dine, and explore as they wish. 
We will start the drive at Unicoi State Park and Lodge.
Stop 1: Tallulah Gorge by way of Lake Rabun
Stop 2: Taccoa Falls
Stop 3: Head back to Helen for Lunch
Stop 4: Duke Creeks Falls
Stop 5: Anna Ruby Falls
Finally, we will return back to the Lodge to partake in the evening events. 
Day: Saturday
Group Leader: Darith Ngoy, 2018 Audi RS3
Pace: Casual, A few curves. Mostly cruising
Staging Location: Lower
Staging Time: 10:15 am
Departure Time: 10:30 am
Distance: 92 miles, 6 hours
Lunch Location: Lake Rabun Hotel & Restaurant
Points of Interest: Scenic Stops, Educational Stops, walking around, shopping, etc
Radio Channel: 17-8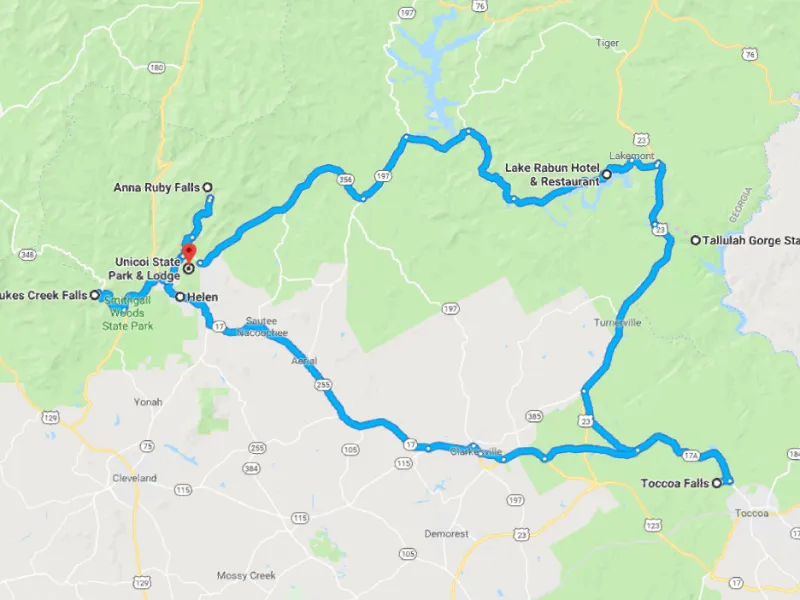 Route map