Thanks for printing! Don't forget to come back to Quattro de Mayo 2022 for fresh articles!

Fully Charged
This drive is electrifying! We'll be the final group to depart in the morning, heading east through Hiawassee, and then south on GA-75, where the twisties will begin after a few miles. Just before we reach Helen, we'll head over to GA-348 (Richard Russell Scenic Byway) for a double dose of our favorite curves, doing an about-face just as the curves stop. We'll then head down to Cleveland for some BBQ. After lunch, we'll take the roads less traveled, which happen to be jam packed with twisty, curvy fun, including GA-60 and Wolf Pen Gap Road.
You may be shocked to learn that your group leader is driving a new car this year, but don't let that short circuit your plans! It's got more torque, bigger brakes and a lower center of gravity. Time to get amped up!
Day: Friday
Group Leader: Eric King
Pace: Spirited, Non-stop curves!
Staging Time: 10:45 am
Departure Time: 11:00 am
Distance: 113 miles, 4 hours
Lunch Location: North Georgia BBQ, Cleveland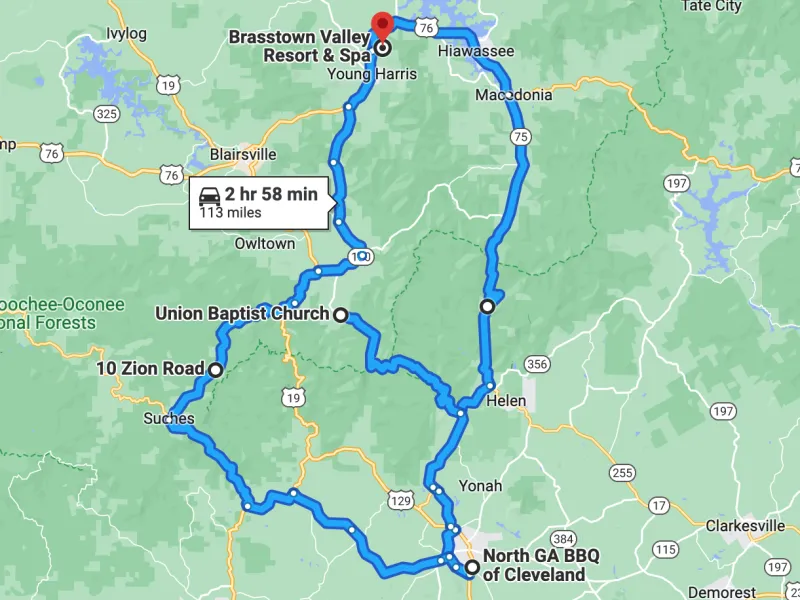 Route map
Who is on this drive?
Achint Sur
Eddie Pyle
Enzo Monno
Eric King - Leader
Jack Vorozheykin
Melisa Wilcox
Raffaele Misciagna
Robert Gordon - Tail
Robert McClain
Scott Nelson