Thanks for printing! Don't forget to come back to Quattro de Mayo 2022 for fresh articles!

Smoky Carolina Reaper
Spicy is the flavor of this drive and it's sure to make you sweat! This will be a day full of twists, turns, and heat only the high country of western North Carolina can offer. The morning leg of this drive features a spirited cruise on US-74 and Warwoman Rd, before turning up the heat as we take on the southern leg of the infamous Moonshiner NC-28 through Highlands, NC. We'll then head east onto Walnut Creek Rd and then to Norton/Yellow Mountain Rd before breaking for lunch at SlopeSide Tavern at the scenic Sapphire Valley Resort. After lunch, we'll set our sights due east and north via US-64 east before starting the main course - a long mountain climb on Parkway Rd up to the Blue Ridge Parkway and the Devil's Courthouse Overlook. This stretch is sure to be a real test! We'll then make our way back down the mountain, this time breaking off to westward onto Charley's Creek/Canada Rd, around Lake Glenville, then south towards Cashiers, NC. Our day nearly complete, we'll finish the day with a spirited drive as we return through through Highlands, NC, Sky Valley, and Clayton, GA before cruising back to base via US-76 to get ready for the evening banquet. This will be a long day of spirited driving with a lot of twisty roads and elevation changes. It is recommended only for those with past QDM, Tail of the Dragon, or HelenBack spirited driving experience. Both man and machine will get a workout so make sure you're both up to the task!

Day: Saturday
Group Leader: Tony Bozeglav
Pace: Spirited+, Non-stop curves!
Staging Time: 8:45 am
Departure Time: 9:00 am
Distance: 238 miles, 8 hours, 30 minutes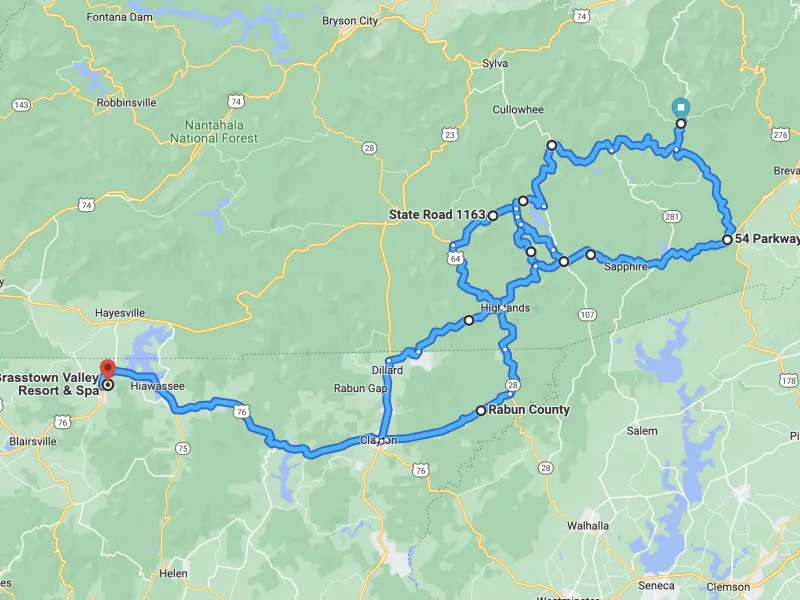 Route map
Who is on this drive?
Bruce Wilson
Cassidy Collins
Eddie Pyle
Enzo Monno
Erich Stuntebeck
James Schwind
Michael Chang
Paul Gazella - Tail
Paul Hubert
Robert McClain
Tony Bozeglav - Leader