Down Memory Lane
Prepare for a trip down memory lane. This scenic drive will start off on beautiful highway 64 toward Highlands, NC. We will head north onto highway 28 for a stop at Down Memory Lane Toy Museum (https://www.dmltoymuseum.org), which has a large collections of cars, trucks, military and construction equipment, including around 900 Studebaker cars! After spending time enjoying the museum, we will continue our scenic journey north on highway 28, where we will be able to enjoy some nice curves at a moderate pace. We will continue our drive on to highway 74 toward Bryson City, and onto our lunch stop at Haywood Smokehouse in Dillsboro. After lunch, we will head down highway 23 toward Franklin, NC,. Heading from Franklin into Clayton, GA, we may make a pit stop at the Smokey Mountain Visitor center for a quick break. We will continue on highway 23 into Clayton, where we will enjoy some more twisty road cruising as we head back to home base at Brasstown Valley Resort.

Day: Saturday
Group Leader: Chad Johnfroe
Pace: Casual, A few curves. Mostly cruising
Staging Time: 10:00 am
Departure Time: 10:15 am
Distance: 165 miles, 5.5 hours
Lunch Location: Haywood Smokehouse
Radio Channel: 17-6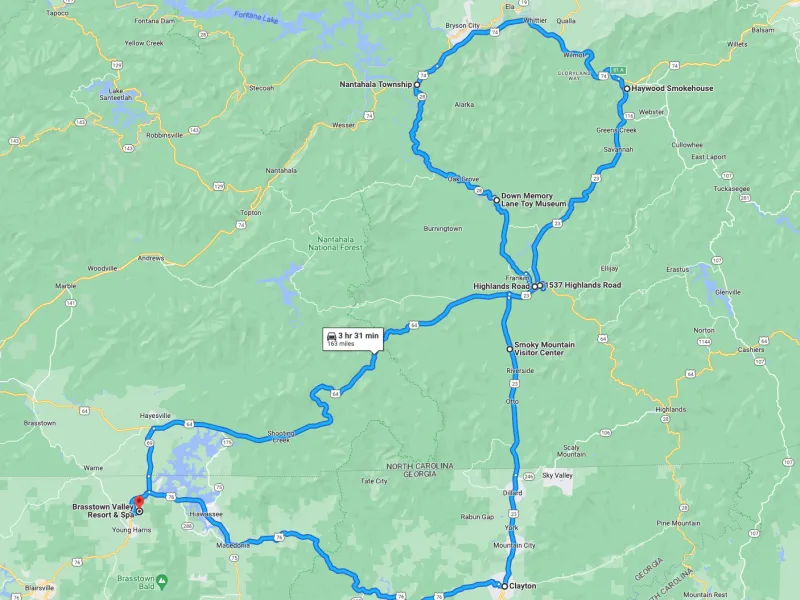 Route map
Sorry, this drive is full!
If someone changes their mind and registers for another Saturday drive, a slot will open up. But it may be a good idea to register for another drive in the mean time.
Who is on this drive?
Ahsan Rafay
Brad Schneck
Chad Johnfroe - Leader
John Moore
Liam O'Marah
Matthew Rogers
Nancy Gaul
Orlando Williams
Roderick Middleton
Thomas Henderson
Tim Thorman
Troy Guillory