HalfWayah
This drive may be a bit of a gamble. Each car must select the first card of a poker hand, and then we head off on an easy morning cruise along US 64 East before we hang a left onto Wayah Road. This will get your coffee stirred, so hold on tight. 23 glorious, curvy miles later we connect with US 74, but not before we take a rest stop at the Nantahala River Put-In and pull the second card for each car. This section is more of a cruise to let you catch your breath before we join up with the best part of NC 28 South and head toward Franklin where we stop for a hard earned lunch and the third poker card. Don't get too comfortable, though. We have another seriously fun section of NC 28/US 64 to complete as we go south through Highlands to the Georgia border and Pine Mountain. The return westward goes along Warwoman to Clayton, where we pause again to breathe and pull a card. Then we cruise via US 76 back to Brasstown Valley Resort and each team gets their final card. May the best hand win!

Day: Saturday
Group Leader: Lars Finderup
Pace: Spirited, Some cruising. Mostly curves
Staging Time: 9:45 am
Departure Time: 10:00 am
Distance: 181 miles, 4.5 hours drive time
Lunch Location: Gracious Plates
Radio Channel: 17-5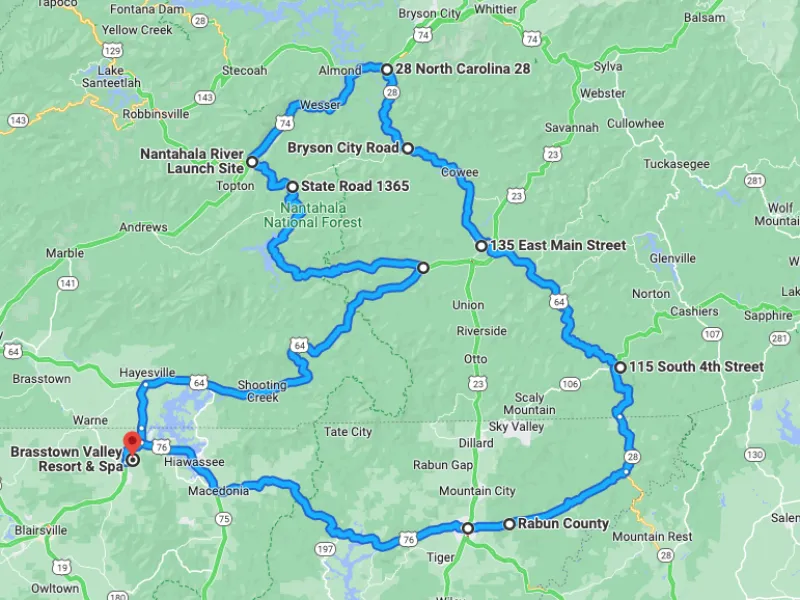 Route map
Sorry, this drive is full!
If someone changes their mind and registers for another Saturday drive, a slot will open up. But it may be a good idea to register for another drive in the mean time.
Who is on this drive?
Craig Daniels
Danny Nettler
Eddie Pyle
Joseph Mrkvicka
Lars Finderup - Leader
Melisa Wilcox
Raffaele Misciagna
Robert McClain
Roger Labas
Steen Morup-Olsen - Tail
Teresa Halloran
Vincenzo Monno