Helenback Redux
This route is based on our Helenback event from last summer. We recommend our more challenging "spirited" and "spirited+" drives for experienced drivers who have been out with us before and are comfortable driving aggressively. If you are not yet ready for that level, this drive will cover some of the same great terrain used for demanding drives, but at a moderated pace to allow you to get familiar with handling your car under these conditions. The route has lots of variety with both tight twisties and scenic sweepers. The star of the route is in the morning: Wayah Road. This gem, often overshadowed by its better known big brothers, the Tail of the Dragon, Hellbender 28, and the Cherohala Skyway, is a beautiful 28-mile long steep twisty which starts at the Nantahala Boat Launch by US19/74, goes up and over a mountain passing by a serene lake, and then tightly winds down to Old Murphy Road near Franklin NC. It is narrow, many sections have no shoulders, and there are lots of tight turns, many of which are blind, so this road requires strict attention and precise car handling.
After a BBQ lunch at Haywood Smokehouse in Franklin, we will head down a beautiful scenic stretch of US64 and then take route 174 to Hiawassee GA. From there we follow route 75 which twists its way to the town of Helen. We will turn off before Helen onto route 75A to pick up Route 348, the Russell-Brasstown Scenic Byway, another beautiful twisty that passes by Brasstown Bald, the highest point in Georgia, and finally return to the lodge via SR180 and US76. Do not be fooled - this drive is not tame! However, after this run on Friday, you may feel better prepared for a more aggressively paced drive on Saturday.

Day: Friday
Group Leader: Rob Gordon
Pace: Moderate, Some cruising. Mostly curves
Staging Time: 10:15 am
Departure Time: 10:30 am
Distance: 168 miles, 4 hours
Lunch Location: Haywood Smokehouse
Radio Channel: 17-9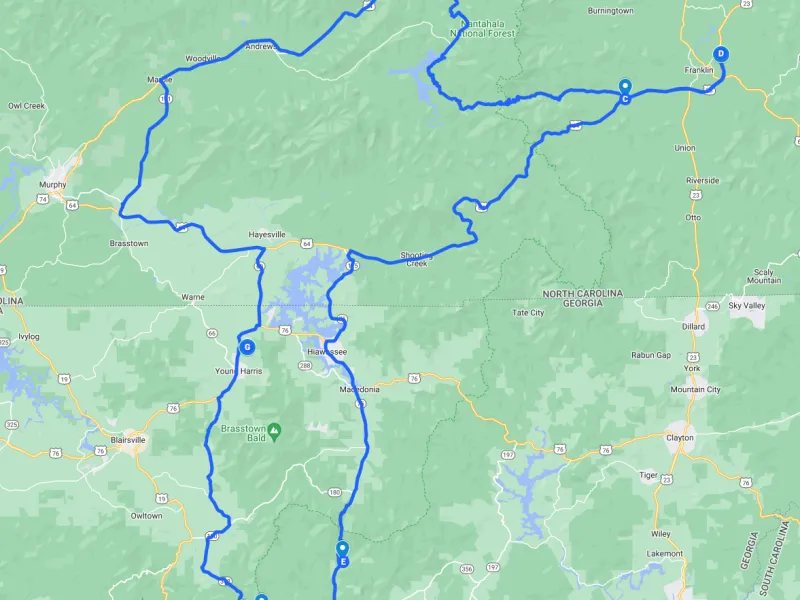 Route map
Who is on this drive?
Bernardo Noguez Ibarra
Brooke Ballagh
Curlen Middleton
Darron Reynolds
Gregg Brodka - Tail
John Bradley
Mark King
Rob Gordon - Leader
Roderick Middleton