Sky-Fall
"Sky-Fall"... The name says it all! This route is a road enthusiast's dream, where we will be traveling a mile high to drive above the clouds and touring a breathtaking National Forest Road that boasts a gorgeous drive alongside Tellico River to a spectacular waterfall. We'll leave Brasstown and head north towards Robbinsville where we'll hit the Cherohala Skyway which is known for its 41 miles of long, sweeping corners and breathtaking scenic views. We'll stop briefly at Santeetlah Scenic pull off, which is the highest point on the skyway, for some photos before heading to Iron Works Grill for lunch to fill our belly's. After lunch we give our food some time to settle and stop by the Cherohala Skyway Visitor Center before taking a road less traveled to visit Bald River Falls, where water cascades over 100 feet onto the rocks below. Then we will head off the grid to a lesser known gem and fly fisherman's paradise called Green Cove and stop at the little country store. Our return trip will take us by Baby Falls before linking back up to the Skyway (that's right, you get 41 more miles of sweeping curves) and back through Robbinsville before returning to Brasstown Valley Resort. This route's pace is mostly spirited with some moderate and cruising driving. You get to experience it all on Sky-Fall, where we like our drives "shaken, not stirred".

Day: Friday
Group Leader: Melisa Wilcox
Pace: Moderate, Some cruising. Mostly curves
Staging Time: 9:45 am
Departure Time: 10:00 am
Distance: 229 miles, 6.5 hours
Lunch Location: Iron Works Grill
Radio Channel: 17-7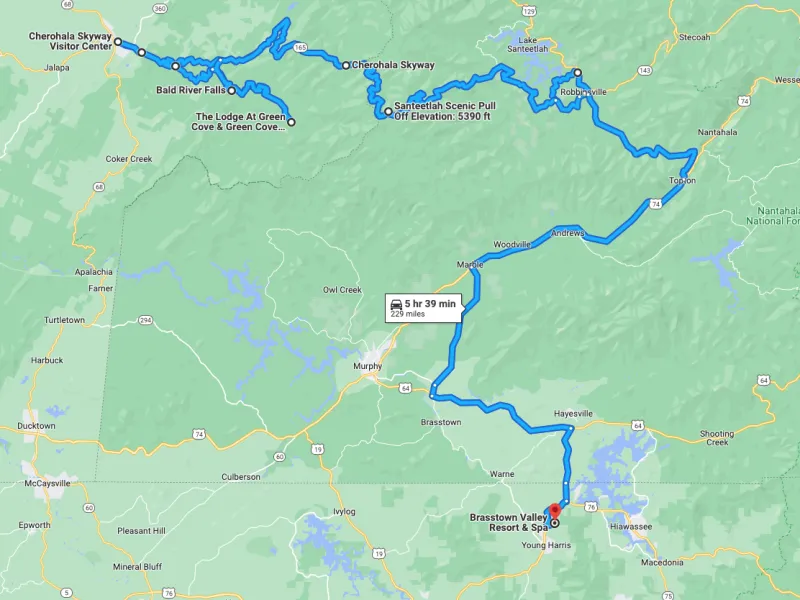 Route map
Sorry, this drive is full!
If someone changes their mind and registers for another Friday drive, a slot will open up. But it may be a good idea to register for another drive in the mean time.
Who is on this drive?
Brad Schneck
Bud Dannemiller - Tail
Danny Nettler
Mark Raggio
Matthew Guerra
Matthew Rogers
Melisa Wilcox - Leader
Michael Sylver
Quentin Padgett
Sunil Karve
William Bracker