The Dragon Foothills XXL
The Dragon/Foothills XXL is a second attempt from a previous drive that was incomplete due to inclement weather.

Be ready for a long, but fun day loaded with twisties and great scenic views. Drive highlights include, the Tail of the Dragon and Foothills Parkway and endless views of the Great Smokey Mountains.

Once we leave Brasstown Valley, we will make our way on 76 east and 64 west towards Robbinsville. We will stop at Deals Gap for a quick restroom break before heading over the "Dragon". From there we will make our way north on Foothills Parkway, another famous road full of long sweeping turns. Our next stop is "The Snoring Bear Diner" where we will stop for lunch.

After lunch we will continue on Foothills Parkway all the way to Wears Valley. We will continue our journey through the beautiful Smokey Mountains (scenic stop for group photo) east on 441 south all the way to Bryson City. We will make another pit stop here before heading on our way back on 74 west towards Marble, NC. From there it will be a relaxed drive back all the way to Brasstown Valley.

This is a moderate to spirited endurance drive, highly recommended for well experienced friends of QDM.

Day: Friday
Group Leader: Alex Girrbach
Pace: Spirited (Long Distance), Non-stop curves!
Staging Time: 8:30 am
Departure Time: 8:45 am
Distance: 241 miles, 9 hours
Lunch Location: The Snoring Bear Diner
Radio Channel: 17-2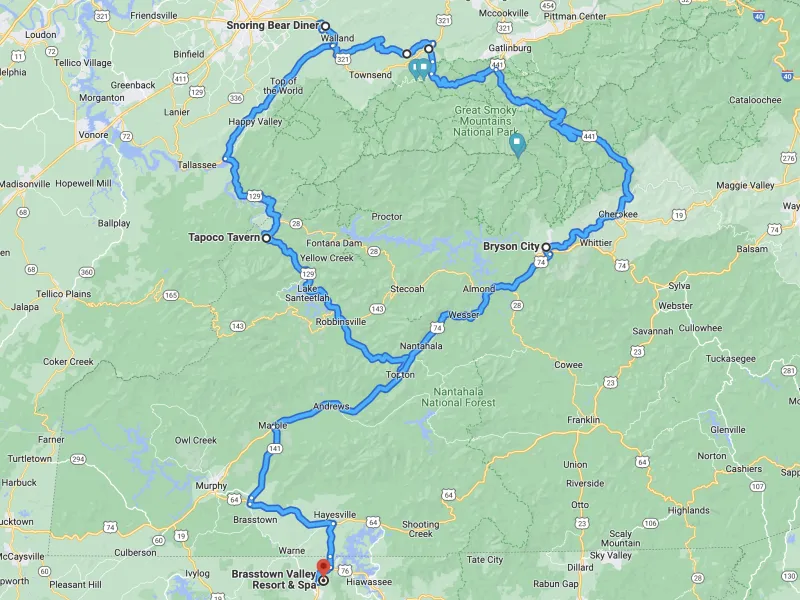 Route map
Sorry, this drive is full!
If someone changes their mind and registers for another Friday drive, a slot will open up. But it may be a good idea to register for another drive in the mean time.
Who is on this drive?
Adam Marko
Alex Girrbach - Leader
Arthur Milford
Cassidy Collins - Tail
Eddie Pyle
Greg Savitt
Joseph Attwood
Mike Pipitone
Raffaele Misciagna
Robert McClain
Steven Johnson
Vincenzo Monno