War Woman to Helen-Back
Join us as we traverse the road less traveled, War Woman! We'll enjoy this twisty adventure taking it out East before returning West and detouring down to Helen for lunch at Big Daddy's!

The route back takes us up the Unicoi Turnpike before arriving back where we started at Brasstown Valley.

Day: Friday
Group Leader: Talia Pakkala
Pace: Spirited, Non-stop curves!
Staging Time: 10:00 am
Departure Time: 10:15 am
Distance: 122 miles, 4.5 hours
Lunch Location: Big Daddy's
Radio Channel: 17-8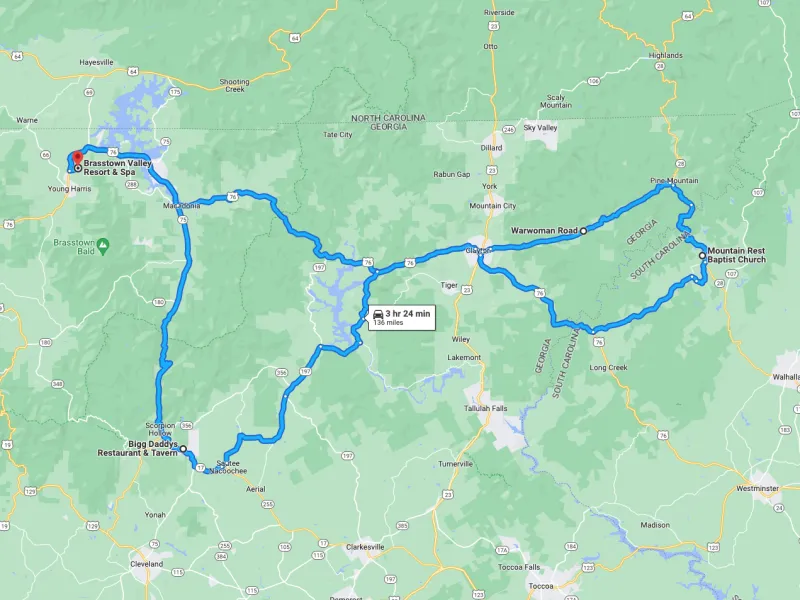 Route map
Sorry, this drive is full!
If someone changes their mind and registers for another Friday drive, a slot will open up. But it may be a good idea to register for another drive in the mean time.
Who is on this drive?
Alexander Anderson
Ami Brooks
Chris Wetzel
Cory Mitchell
David Shuford
Keith Buckett
Rob Brooks
Roger Labas
Seth Roach - Tail
Talia Pakkala - Leader
Tarif Abedin
Teresa Halloran