Regeneration
The electrifying sequel to last year's Fully Charged drive, Regeneration brings back all of our favorite curves, and adds a few more miles of fun! We are the last group departing for the day. The route will have us turning left out of Brasstown Valley resort (shocking, I know, but it'll help us keep our distance from the group leaving just before us), and quickly heading to Georgia 348, Richard Russell scenic byway, and continuing to Cleveland for lunch at North Georgia BBQ. Most of our driving will occur after lunch, as we head up to Turners Corner, left on US 19 and then right on GA 60 all the way up to Wolf Pen Gap road. Then, we'll turn right on US 129, heading back toward Cleveland, but will turn left on to GA 75 Alternate, in order to head over to GA 75 (Unicoi Turnpike). Instead of continuing all the way to Hiawassee, we'll turn left on to GA 180 and run up to Brasstown Bald (bring cash for parking) to enjoy the views and take a group photo. Finally, we'll head back down and return to the resort with plenty of time to rest and recharge before the banquet!
Day: Saturday
Group Leader: Eric King
Pace: Spirited, Non-stop curves!
Staging Time: 10:45 am
Departure Time: 11:00 am
Distance: 138 miles, 4.5 hours
Lunch Location: North Georgia BBQ
Radio Channel: 17-10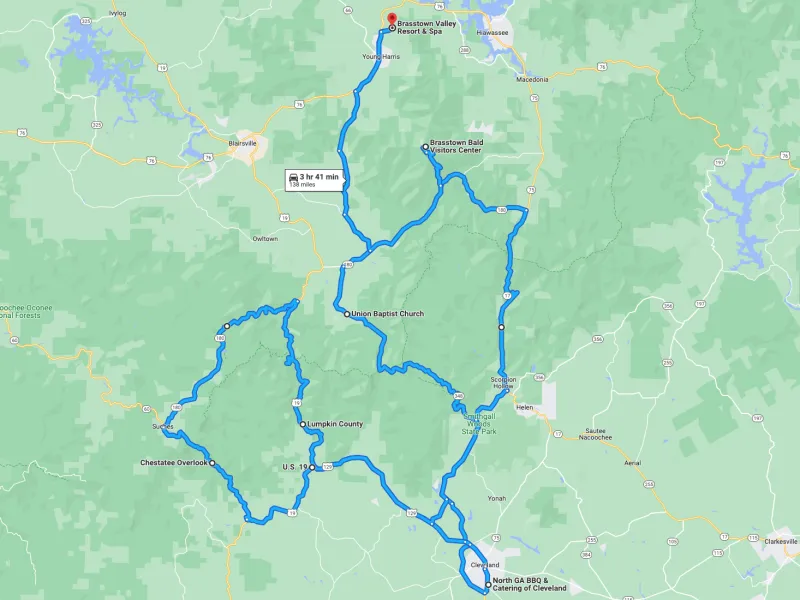 Route map
Who is on this drive?
Arthur Milford
Eric King - Leader
Laurent Marchand
Richard Lucki - Tail
Sean Sweet